ELM327 OBD2
€34,95
€39,95
-13% DISCOUNT
Version
ELM327 USB (FOR WINDOWS PC)
ELM327 BLUETOOTH (FOR ANDROID AND PC)
ELM327 WIFI (FOR IPHONE - IPAD UNDER IOS)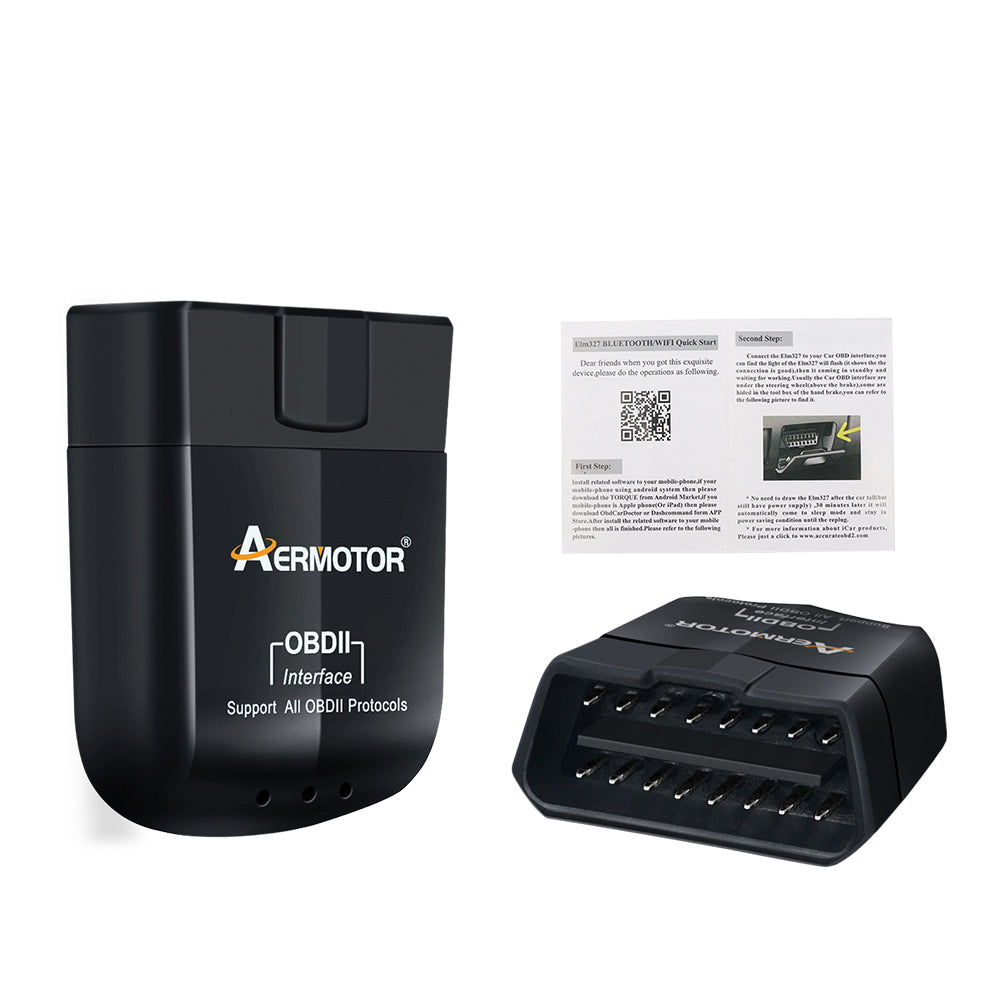 Description
Shipping
Consumer reviews
L'USB/Bluetooth/Wifi OBD2 diagnostic interface turns your computer or mobile phone into a real car diagnostic tool!
Interface enables diagnostics engine et transmission simple on OBD2 vehicles.
ELM327USB:
plugs directly into your Windows PC.
ELM327 Bluetooth: This diagnostic interface offers the advantage of being wireless and can be used with a computer or an Android smartphone. Thanks to it, you can carry out small diagnostics on certain sensors of your car and read the measurement values ​​provided by the OBD socket via a Bluetooth connection.
ELM327 Wi-Fi: Thanks to its wireless connection, this interface can be used with a computer or a smartphone. Only WiFi interfaces are compatible with iPhone/iPad. Take advantage of its practical features to diagnose your vehicle with ease.
Features and functionality
L'ELM327 interface is designed specifically for simple use with generic applications. Thanks to software version V2.1 and hardware version V1.5, it is compatible with all OBD-II compliant vehicles.
You can download the applications adapted to your operating system:
Windows : ScanMaster-ELM, ScanTool.net, PCMSCAN ELM, etc.
iOS : Auto Doctor, Mini OBDII
Android : Torque, DashCommand, OBD Car Doctor, Auto Doctor, Mini OBD, EOBD, etc.
Symbian : OBDScope
The PIC18F25K80 chip provides optimum performance for the ELM327 Hardware V1.5, which supports SAE J1850 PWM and SAE J1850 VPW protocols. Unlike the V2.1 version, it offers better compatibility with American and European vehicles (since 2003), Japanese vehicles (since 2005) and Asian vehicles (since 2009).
This version ELM327 V1.5 supports 10 OBD-II protocols:
SAE J1850 PWM (41.6 kbaud)
SAE J1850 VPW (10.4 kbaud)
ISO9141-2 (5 init baud, 10.4 kbaud)
ISO14230-4 KWP (5 init baud, 10.4 kbaud)
ISO14230-4 KWP (fast init, 10.4 kbaud)
ISO15765-4 CAN (11-bit ID, 500 kbaud)
ISO15765-4 CAN (29-bit ID, 500 kbaud)
ISO15765-4 CAN (11-bit ID, 250 kbaud)
ISO15765-4 CAN (29-bit ID, 250 kbaud)
SAE J1939 CAN (29 bit ID, 250 kbaud)
B.USER1 CAN (11-bit ID, 125 kbaud)
C.USER2 CAN (11-bit ID, 50 kbaud) default settings (user adjustable)
Wondering what functions are possible with the ELM327? With this adapter, you can do the following:
Read, erase and display diagnostic trouble codes, whether standard or manufacturer specific.
turn it off

engine light

(if the problem causing the light to come on is solved)
Measure fuel consumption.
View real-time vehicle performance such as speed, oil pressure, coolant temperature, engine load, intake manifold pressure, throttle position, throttle values oxygen sensors, air intake temperature, etc.
Save data for later printing in different formats.
View real-time graphs, record various settings, etc.
Simple. Effective

The operation of theUSB diagnostic interface is instinctive. This tool is intended for individuals, you do not need to have advanced technical knowledge to use it. Simply plug it into your vehicle's diagnostic socket, usually located around the steering wheel.
Connect the tool to your vehicle's diagnostic socket and to your computer via USB or wirelessly on your smartphone and start the diagnosis!
Compatibility
The diagnostic interface is compatible with all vehicles that comply with the OBD2 standard
All vehicles

ESSENCE

from

January 2001
All vehicles

DIESEL

from

January 2004
All vehicles

UTILITIES

et

LPG

from

January 2007
Contents of the package:
1* ELM327 WiFi or USB or BT Scanner


Shipping for physical tools:
Where are the tools we sell shipped from?
We work with European suppliers (Germany, Spain, etc.) who assemble the tools and check their proper functioning before dispatch to ensure a high quality service.
Is the delivery ensured by recognized service providers such as DHL, GLS, etc.?

What are the shipping times?
As a general rule, orders are dispatched within 72 hours. Our average delivery times are 5 to 10 working days depending on the country of delivery.
Shipping for digital products:
The shipment is made instantly by email (maximum within 24 hours, if computer maintenance) following the purchase.
Don't forget to check your SPAM
For any additional questions, go to the FAQ section.
30-day money-back guarantee*