Galletto 4 - V54
€119,95
€139,95
-15% DISCOUNT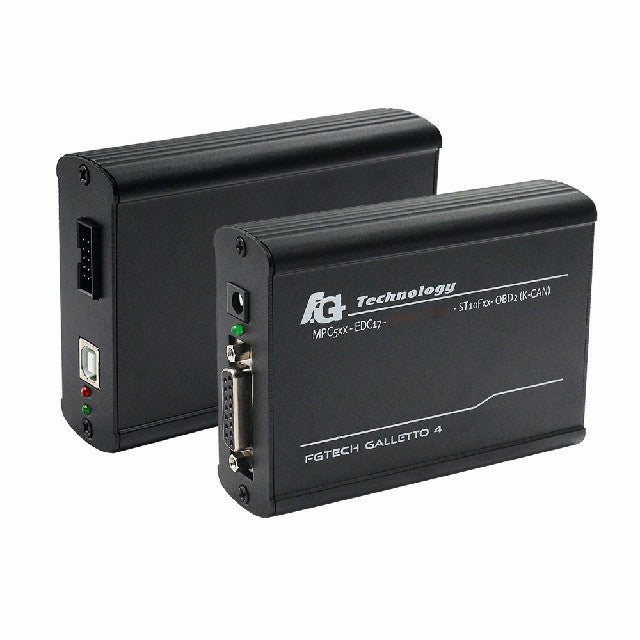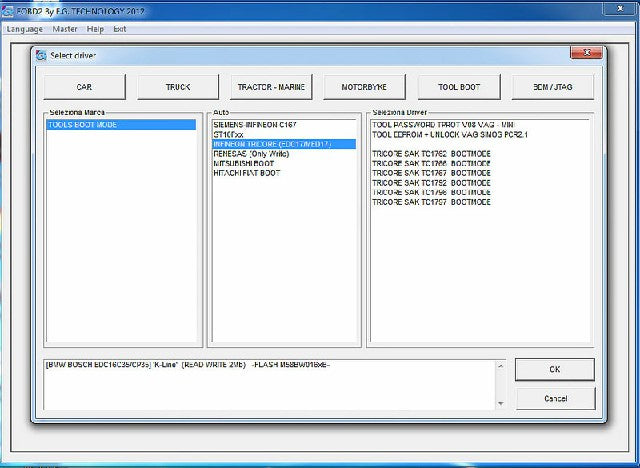 Description
Shipping
Consumer reviews
FGtech Galletto 4 Master V54 - Full Chip 0475: Engine ECU programmer via OBD or on table.
The GALLETTO is a simple tool that allows you to read and write original or modified files in the vehicle's ECU through its OBD 2 socket in a few minutes. It communicates with a wide range of ECUs, even the latest generation, and allows you to read and write directly to the ECU microprocessor, flash memory and EEPROM.
With an intuitive interface, it really aims to simplify handling for professionals and amateurs alike.
You will be able to master the entire reprogramming in a few minutes.
When the OBD2 socket cannot be used for reading and writing, the GALLETTO is equipped with the cables for a table connection (BDM JTAG).
First you read the files inside the ECU using GALLETTO, then you have your file modified by a professional and finally you write them back to the ECU.
Programming Flexfuel BioEthanol with the GALLETTO:
The GALLETTO allows you to transform your petrol vehicle equipped with multipoint injection into Flex fuel
It will thus be able to run on SP95 / SP98 or E85 Super-Ethanol, without adding any additional box.
The transformation is quick, simple, economical and completely invisible to technical control or the garage. You'll get your next fill-up at half price!
Power and torque programming:
You are probably interested in programming a Stage 1, a Stage 2 or handling EGR, FAP, SCR, Adblue, Limiters, etc. valve options.
Gain in performance, in pleasure and lower your consumption for a derisory cost
Reprogram your engine ECU but also that of your friends, or start a new activity, there is no limit of use
GALLETTO Master Version:
Full recovery mode
Default DTC error analysis and removal tool
Monitor battery voltage in real time
Etc ...
Main advantage of the GALLETTO:
- GALLETTO is able to write via OBD and via Tricore BDM
- GALLETTO is ultra-compact
- Its software launches without having to connect to a vehicle
GALLETTO compatibility:
- With many cars, light commercial vehicles, trucks, tractors, boats, etc...
- Communication protocols with ECUs up to 2012.
GALLETTO protocols:
NEW JTAG - BDM - MOTOROLA - FREESCALE – INFINEON
Freescale MPC 5553/5554/5565/5566 NEXSUS PORT New IAW MJD 8F2
Delphi DCM3.5xx DCM3.7xx TRW
Motorola Freescale MPC 555 / 556 / 561 / 562 / 563 / 564 / 565
Motorola MC 68332 - MC YQQCU - MC 68377 Trionic 5 / 7 / 8 GM-OPEL-SAAB
Motorola MC68376-01 Lamborghini-Lotus
Motorola MC 68336 MEMS D5 ROVER
Motorola ZC 439615 - ZC 439507 IAW FIAT - VAG
VPM GM - Hummer-Corvette-Munstang-Blazer-Cadilac
Tx-Rx-Subaru-Mitsubishi-Hitachi-Denso ECU
All EDC17 MED17 in Boot Mode.
Automatic Calculation of Checksum:
All old protocols are included: Bosch MExx / EDCxx / Marelli / Siemens / Delphi / Lucas / Denso
Boot Mode C167x/ST10
Boot Mode Infineon with password Bosch/Siemens
Motorola MC68332 - MCYQQCU - MC68377 - MC68376 - MC6833 - ZC439615 - ZC439507
Motorola Freescale MPC 555 / 556 / 561 / 562 / 563 / 564 / 565
Freescale MPC 5553 / 5554 / 5565 / 5566
BDM
Industrial vehicles:
K-line, KWP, CAN
Can Bus V2.0 50Kb > 1000Kb
J1850 VPW PWM GM - FORD
Rx Tx RS232
RS 485
K-line 250, 500, 1000 ohm,
Automatic Can Bus 0, 60,120 ohms
Consult the manual, the compatibility list of vehicles, motorcycles, trucks, buses... as well as the various protocols supported by the GALLETTO in the "attached documents" section.
Contents of the GALLETTO package:
1x FGTech GALLETTO 4 interface
1x Cable for boot ECU
1x Adapter for BDM
3x BDM Adapters
6x BDM Connectors
1x OBD2 Cable
1x USB cable
1x EOBD2 Software CD
GALLETTO works only under Windows XP and Windows 7 in 32 bits
/ !\ It is important to note that we are not responsible for any misuse of the tools, software or files.
We take no responsibility for any damage to your ECU if the wrong files are used or a mistake is made!
Shipping for physical tools:
Where are the tools we sell shipped from?
We work with European suppliers (Germany, Spain, etc.) who assemble the tools and check their proper functioning before dispatch to ensure a high quality service.
Is the delivery ensured by recognized service providers such as DHL, GLS, etc.?

What are the shipping times?
As a general rule, orders are dispatched within 72 hours. Our average delivery times are 5 to 10 working days depending on the country of delivery.
Shipping for digital products:
The shipment is made instantly by email (maximum within 24 hours, if computer maintenance) following the purchase.
Don't forget to check your SPAM
For any additional questions, go to the FAQ section.
30-day money-back guarantee*