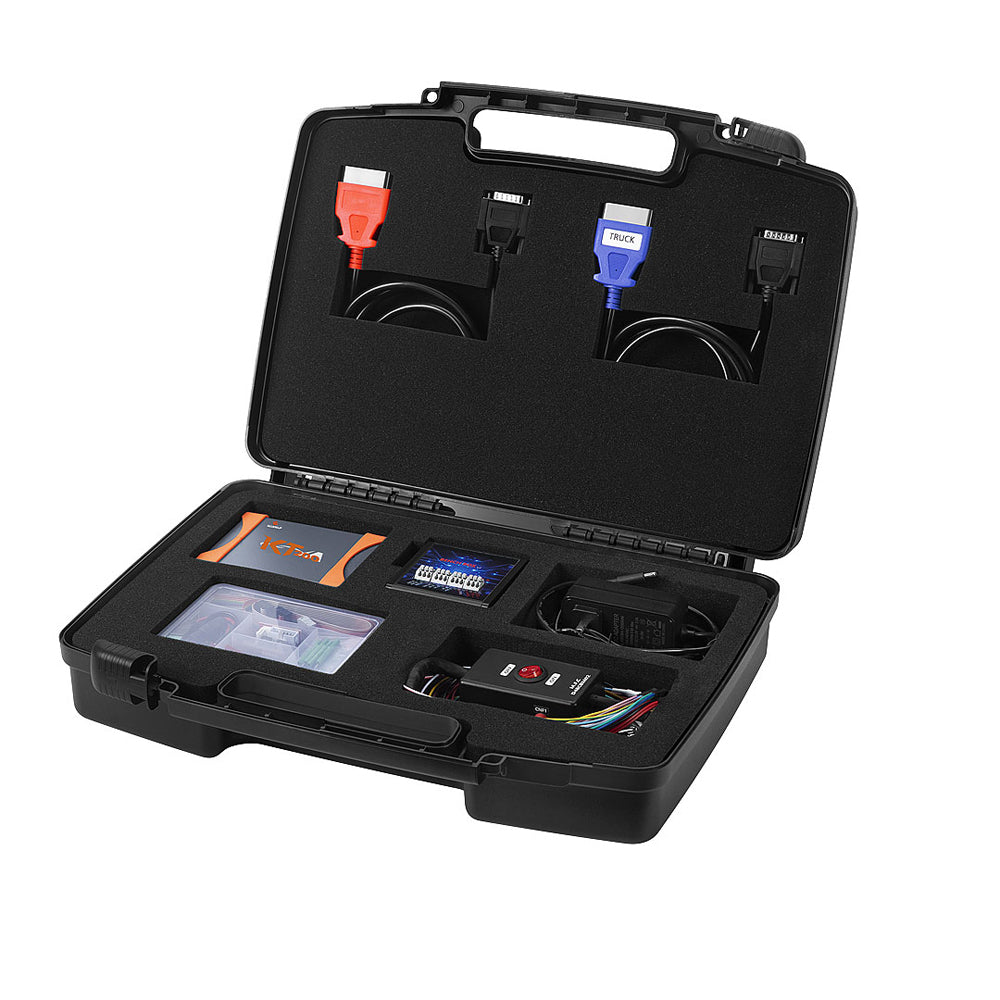 Description
Shipping
Consumer reviews
KT200 OBD2 ECU Programmer 2023: Improve ECU Performance and Maintenance, Remove DTC Codes, Read and Write by OBD2
Meet the KT200 OBD2 ECU Programmer, an advanced chip tuning tool for maintenance, clearing DTCs, reading and writing OBD2, and much more. Designed for car enthusiasts and chiptuning professionals, the KT200 offers a complete solution to optimize the performance of your engine. Explore its outstanding features and find out how to install this powerful tool.
Offering optimized performance and advanced maintenance solutions for a wide range of vehicles. Its user-friendly interface and advanced features make it a smart choice to enhance your driving experiences. Order today and take control of your engine like never before.
Two versions of the KT200 to choose from:
Basic Edition
Full version
Please note :
Must work online (access online server), otherwise the software will not work.
Compatible OS: Windows 7/8/8.1/10/11 pro/ultimate, CPU > 2,5 GHz (Intel i5, i7), RAM > 8 GB.
User Manual, TCU List and ECU List: Please contact us if you need.
Differences between the Basic Version and the Full Version of the KT200:
The hardware is identical in terms of adapters, but the full configuration adds three additional protocols: OBD Tractor, OBD Boat, OBD Motorcycle. These three protocols are designed for motorcycles, yachts and agricultural machinery.
If the buyer orders the basic version and wants to upgrade to the full version in the future, he can pay an additional €250 to receive the serial ID number to upgrade to the Full Version.
What is KT200 used for?
The KT200 is a versatile tool for engine performance improvements, grouped under two main components:
Chip Tuning: This feature optimizes engine performance by modifying the data read by the ECU. The data is divided into three stages: Stage 1, Stage 2 and Stage 3, each providing specific improvements.

ECU maintenance: The KT200 also allows the repair of ECU software errors by modifying the data read by the tool. Clearing DTCs is part of this feature.
Highlights of KT200:
Support many ECU protocols: OBD/BOOT/BDM/JTAG.
Full coverage of German, Japanese, American and Chinese models.
Regular updates to stay on top of the industry.
Support clone functions for Volkswagen and Audi (local operation without sending data to manufacturers).
Professional reading and writing solutions for a wide range of vehicles: cars, trucks, motorcycles, tractors, boats, etc.
DTC clearing functionality for 99% of models on the market.
How to install KT200?
Installing the KT200 is quick and easy with a five-step process:
Plug in the device and run the KT200 software installation.
Verify that drive C has a capacity of 15 GB or more.
Make sure you have enough space to run the KT200_ftp installation.
After the installation is complete, insert the dongle and run the KT200.exe program for the first update activation.
Complete the activation and open the software.
Package contents:
The KT200 package includes a full set of accessories and software to enhance your experience:
1 Master
1 BENCH BOX
2 OBD cables
1 pinout line
4 BOM Adapters
3 Transfer cables
4 Power cables
1 Set of Resistors
4 sets of adapters
5 Sets of power adapters
Lists of protocols supported by the KT200:
New version up to 2022.7.6: added more models as shown below:
NEW AUTOMATIC FEATURE: TRI-CORE CLONING Added automation to clone the following control units with adaptation of OTP zone and password:
BRP Can-Am ME17.8.5
BMW MED17.2
BMW MEV17.2
MINI MED17.2
MINI MEV17.2
MERCEDES-BENZ EDC17 CP01
OPEL EDC17 C84
OPEL EDC17 C42
NEW AUTOMATIC FEATURE: TRI-CORE CLONING Added automation to clone the following control units with adaptation of OTP zone and password:
BMW MEVD17.2.8
BMW MEVD17.2.H
FIAT DCU17 PC42
MERCEDES-BENZ EDC17 CP10
MERCEDES DCU17 PC42
MINI MEVD17.2.8
MINI MEVD17.2.H
RENAULT DCU17 PC42
VOLVO EDC17 CP48
Added new JTAG solution for CONTINENTAL CUMMINS CM2200 ECU installed on DODGE and CHRYSLER vehicles:
Litterature
Writing
Recovery
Checksums
NEW BOOT MODE FOR DELPHI DCM7.1A / DCM7.1B ECU
We have implemented a new BOOT MODE for the AURIX TC297 microphone mounted on the DCM7.1A and DCM7.1B control units from the PSA group:
Litterature
Writing
Recovery
Checksums
NEW BOOT MODE (BAM) FOR CONTINENTAL GPEC ECUs
Fitted on FCA Fiat, JEEP, Chrysler, Dodge cars:
CONTINENTAL GPEC2A
CONTINENTAL GPEC3
CONTINENTAL GPEC4
CONTINENTAL GPEC4LM
Micro + EEPROM reading
Microphone + Eeprom writing
Recovery
Checksums
We have added a new BOOT MODE (BAM) for the complete management of control units on SCANIA:
And new BOOT MODE (BAM) for MERCEDES BENZ / FCA with control units:
DELPHI CRD2.xx (SOLENOID and PIEZOTEC versions) So reading and writing in open ECU mode is easier compared to previous JTAG method (function still available). Moreover, with this method, for the DELPHI CRD2.xx SOLENOID, it is no longer necessary to open the control unit from below.

Micro + EEPROM reading

Microphone + Eeprom writing

Recovery

Checksums
Note: The information above reflects the latest updates and improvements to the KT200.
Shipping for physical tools:
Where are the tools we sell shipped from?
We work with European suppliers (Germany, Spain, etc.) who assemble the tools and check their proper functioning before dispatch to ensure a high quality service.
Is the delivery ensured by recognized service providers such as DHL, GLS, etc.?

What are the shipping times?
As a general rule, orders are dispatched within 72 hours. Our average delivery times are 5 to 10 working days depending on the country of delivery.
Shipping for digital products:
The shipment is made instantly by email (maximum within 24 hours, if computer maintenance) following the purchase.
Don't forget to check your SPAM
For any additional questions, go to the FAQ section.
30-day money-back guarantee*